A
What the photocatalyst is, when the titanium dioxide receives energy from light such as the sun or room lighting, electrons (-) are released from the surface. The electrons released are combined with oxygen in the air then creates "O2-" (Superoxide anion). The surface where the electrons were released is tinged with the electric charge of plus, and takes electrons from moisture of the air and then return to its original state. On the other hand, the moisture that lost the electron becomes a hydroxyl radical (•OH). These two kinds of strong oxidative decomposition, which decompose organic compounds such as mold, moss, oil, etc, causing dirt. In addition, in case of inside, it has an environmental purification function that can decompose and remove odors, bacteria, viruses, etc, and harmful substances, gas, cause of the sick house syndrome. This action occurs repeatedly when the light receives, and the photocatalyst itself does not change. In other words, photocatalyst is that "it decomposes various harmful substances, a odor, dirt, etc. by receiving light and keeps continuously good environment".
A
It is known that there are many substances which has a photocatalytic effect. However, the most reactive substance among them is "titanium oxide". Most of the photocatalysts currently used around us are "titanium oxide".
A
The feature of the photocatalyst is that it has a self-cleaning function using natural light and rainfall without using any energy such as electricity. Light and rain are indispensable for this function to work well. Also, if the decomposition amount does not exceed the amount generated, dirt will gradually accumulate. This is largely related to structural problems, for example rainwater repeatedly passes through the same place, or water is pooled in narrow gaps then it is hard to dry circumstances, etc. Dirt may occur partially due to various factors. However, most of them are prevented dirt by the photocatalytic function, so you can keep beautiful appearance with partial maintenance.
A
The coating cost of the Palccoat is cheaper than a general paint. When there is a scaffolding for general painting for exterior wall, and a large-scale repair of an apartment, you can request it together and it will be cheaper. The "Palccoat Group" provides customers with reasonable prices and beliefs in order to spread the general public, energy saving, ecology, and excellent "photocatalyst technology" from Japan. Furthermore, the effect guarantee five years and confidence in quality are proof of trust (guarantee five years is only for exterior coating).
A
It can be applied to most substances. However, when applying directly to a target exposed to direct sunlight on an organic surface such as plastic or painted surfaces, if the photocatalyst is applied directly, the surface of the base substance will not be stable due to the photocatalyst function and the film will peel off. In such cases, be sure to apply an inorganic protective layer (undercoat) to the surface of the base substance, and then apply a photocatalyst (topcoat) on top of it. Also, when applying to a highly water-repellent base substance, it may be necessary to do pretreatment or use additives solution in combination.
A
There is a high effect.
The cause of sick house syndrome is volatile organic compound gas (VOC gas).
The photocatalyst decomposed/detoxifying harmful gases as well as deodorizing effects.
In the case of a new house, there is no problem basically because building materials are adopted after strict inspection, but there are many cases where a sick house develops after entering, and the cause is said that imported furniture or sofas etc. However, VOC gas that has volatilized once adsorbs in the room, and then it gradually diffuses and affect the human body. If you coat the whole room with a visible light reaction type photocatalyst before moving in, it is safe because the emitted VOC gas continues to be decomposed. However, it does not work in a state where the light does not enter and shutting the door, window completely. Immediately after entering a new house, ventilate well, open the curtains and receive light as much as possible to maximize the photocatalyst activity.
A
The PALCCOAT MOLD (mold control powerful type) is responsive to infinitesimal amounts of ultraviolet light. Ultraviolet rays also reach the north side where light does not receive. The picture below is, we observed by spraying over the green algae growing on the north side of the house. As you see, it takes time, but it is gradually decomposed.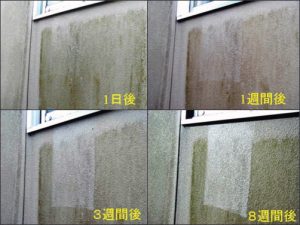 A
After several separate applications with a spray gun, the room will gradually become whiter. Therefore, fire alarms should be covered beforehand.

Depending on the client's requirements, we generally cover appliances, precision instruments, and artwork. The reason is to avoid the risk of any malfunction.
A
Basically, it is determined visually by the experience of the coating technician, but as a rule of thumb, since it is water-based solution, it can be considered the same as the drying rate of water.
A
It will be fixed in about 30 minutes at room temperature. It takes at least 24 hours for the film strength to increase to the extent that it is safe to touch. After that, the film strength will gradually increase. Do not touch it for at least 24 hours after application. Do not rub the film strongly with a dry cloth, as this may scratch the film.
A
If you have the experience and technique of painting with a spray gun, you will have an advantage. However, application of PALCCOAT's photocatalytic solution requires technology to evenly apply a thin metal film. If you are an experienced painter, you tend to overpaint.

Even if you cannot apply it evenly and try to start over, once it dries, it is nano-sized titanium oxide, so you can only remove it by scraping the entire base. Oxidative decomposition occurs when the surface of the film is exposed to light, so if there is a coating missing spot, the dirt will become more noticeable over time.

In addition, the surface area of ​​titanium oxide must be formed as large as possible on the coated surface so that oxidative decomposition can occur efficiently and appropriately. For that reason, it is necessary to have the photocatalyst knowledge and film formation theory.
A
It can be roughly divided into organic substances for combustible substances and inorganic substances for non-combustible substances. However, even if the material is inorganic, there are cases where the surface is processed or the film is weakly fixed depending on the compatibility with the material, so care and ingenuity are required.

● Bases that require an undercoat: Painted surfaces, concrete with clear paint treatment, marble, water repellent treatment, etc.

● Bases that not require an undercoat: unfinished concrete, tiles, bricks, stones, charcoal, glass *, lysine, jolipads, spray tiles, etc.
* Glass has an organic substance (oil film) on the surface during the manufacturing process, so it must be removed by polishing before application.

These are just guidelines. Since the quality varies depending on the surrounding environment and the paint / material manufacturer, we recommend that you perform test coating in advance with a sample or on-site. We will decide the solution selection and usage amount after discussing with the client such as the foundation of the property to be constructed and the surrounding environment.
A
Since the amount of ultraviolet rays with the highest activity value is not large indoors, basically it doesn't need an undercoat.